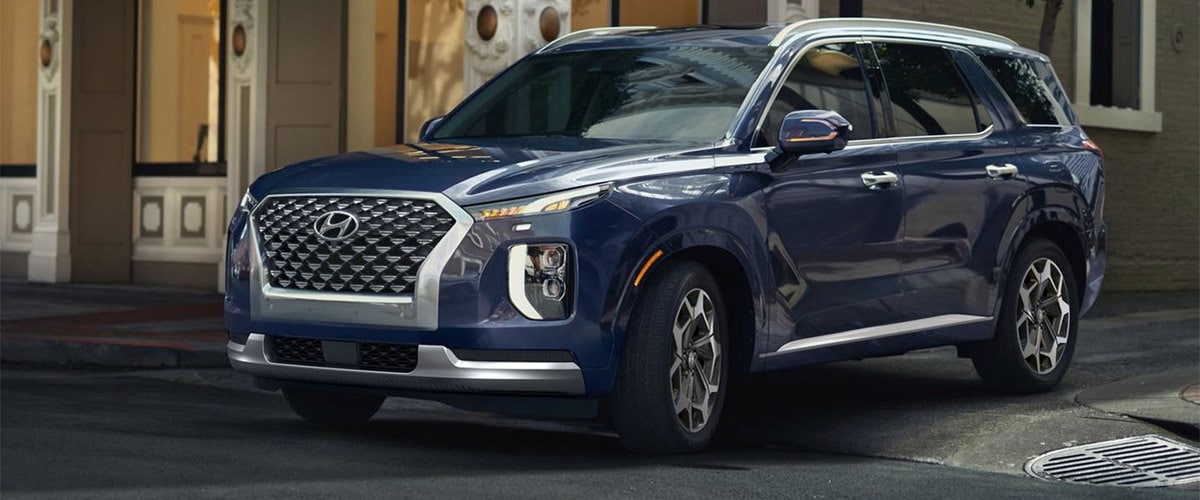 When you're looking for the ultimate vacation vehicle that offers more features and luxury than your typical average car, the new 2022 Hyundai Palisade should catch your eye. With multiple safety features that keep not only the driver but all the passengers in the car safe, the Palisade is the perfect SUV whether you're a first-time driver or have been behind the wheel for many years. At Hamilton Hyundai, we've introduced a lot of customers to the
new 2022 Hyundai Palisade
, and for good reason too. 
With multiple safety features that keep not only the driver but all the passengers in the car safe, the Palisade is the perfect SUV whether you're a first-time driver or have been behind the wheel for many years. No matter what trim model you choose to get, all variants can get fitted for an all-wheel drive for a more comfortable driving experience as AWD has a traction advantage in all conditions. With plenty of user-friendly features, there's certainly a lot to love about this car!
It offers many of the features seen in the 2021 version but with better upgrades and aesthetics. Keep on reading to find an in-depth overview of the new 2022 Hyundai Palisade model and its trims.
Luxurious Interiors with a Sleek Exterior Design
A top-level SUV, the 2022 variant of the Hyundai Palisade is the perfect family vehicle combined with SUV luxury. It offers a smooth drive even over rough terrain, so you can enjoy a comfortable ride anywhere. It's loaded with tech-forward features that ensure optimal performance with plenty of space.
It can comfortably sit eight people, or you can maximize your luggage space by minimizing the cabin space. It has automatic emergency braking, blind-spot monitors, and more for maximum safety combined with a comfortable experience.
Four Trims with Different Features for Your Needs
The new 2022 Hyundai Palisade comes in four trims: the SE, SEL, Limited, and Calligraphy. Each trim offers different features and safety aspects, with different interior options also available. Here's a look at the different trims available in more detail.
Palisade SE
Every trim variant is held to Hyundai's exceptional high standards, so whether you're getting the entry-level trim or the top end trim, you don't feel like you're missing critical features. The 2022 Hyundai Palisade SE is the base trim offered and comes with a range of features that deem it worthy of being a luxury SUV. It features an 8-inch touch screen infotainment center with five USB ports, perfect for setting up a charging station and for setting up wireless Apple CarPlay or Android Auto.
The driver assistance tools include rear parking sensors, pedestrian detection, adaptive cruise control, lane keep assist, driver drowsiness monitoring along with other features that make it perfect for long drives!
Standout Features:
  •
Great Infotainment Center: With a standard-level 8-inch touchscreen that features Bluetooth connectivity and HD radio.
  •
Standard Driver Assist Features: Includes rearview camera, forward collision warning, automatic emergency braking, rear cross-traffic alert, blind-spot monitoring, and more.
The major attraction of the Palisade SEL is the sunroof that lets you experience the sunshine on a lovely day. It comes with dual-zone climate control, push-button start, and remote start. You can also choose to get an additional Convenience package that includes a hands-free power liftgate, an additional USB port, and wireless device charging. 
The Premium package that follows the Convenience package has a 10.25-inch touchscreen, satellite radio, an intercom, heated second-row seats, and a heated steering wheel. You can also opt for second-row bench seats instead of captain's chairs when you choose the Premium package.
Standout Features:
  •
Heated front seats, push-button start, and remote control that offer maximum convenience for professionals on the go
  •
Dual-zone Automatic Climate Control to ensure everyone is comfortable, whether in the front or back of the car
  •
Power adjustable driver's seat for the driver's convenience when driving
The perfect mid-range trim in the Hyundai Palisade range, the Limited model offers fresh features with a luxurious interior that can make any driver feel happy while driving. The Limited model offers a dual sunroof, fine Nappa leather upholstery, ventilated front seats, a heated steering wheel, an intercom, and much more. The additional packages that were offered with the SEL are available in the standard Limited model that includes the 10.25-inch infotainment center.
You can pretty much find everything that comes in a Palisade within the Limited model and combined with the beautiful interiors, there's no way a driver wouldn't love driving this dream of a car.
Standout Features:
  •
Features heated and ventilated second-row seats, wireless device charging, power-adjustable passenger seat, a 10.25-inch infotainment center, and a 12-speaker Harman Kardon audio system for passengers' ultimate ease.
  •
Driver-assist features include a hands-free power liftgate, digital gauge cluster, an intercom, front parking sensors, a head-up display, a surround-view parking camera system, and more.
The top trim variant for the new 2022 Hyundai Palisade is every driver's dream. With top-of-the-line materials and unique design elements, this car truly is the epitome of luxury inside and out.
With 20-inch alloy wheels, perforated leather-wrapped steering wheel, 8-way power passenger seats, power-folding 3rd-row seats, and USB outlets, LED interior lights, and much more, the Palisade Calligraphy is truly fit for every type of driver.
Standout Features:
  •
Durable and premium exterior design elements like roof side rails, LED Daytime Running Lights, side mirrors with turn-signal indicators, and high beam assist
  •
Includes all features from the SE, SEL, and Limited trims
The New 2022 Hyundai Palisade at Hamilton Hyundai
If you are looking for a luxury vehicle at an affordable price, the new 2022 Hyundai Palisade should be on your short list. With multiple trim options available, you have the option to choose the car trim that is most suited to your needs.
If you're interested in the new 2022 Hyundai Palisade, reach out to our team at 877-464-5105 or contact us by filing out this
online form
so you can schedule an ideal time for you to check out the Palisade SE, SEL, Limited, and Calligraphy for yourself! If you want to check out more of Hyundai's top models be sure to check out our
research hub
!