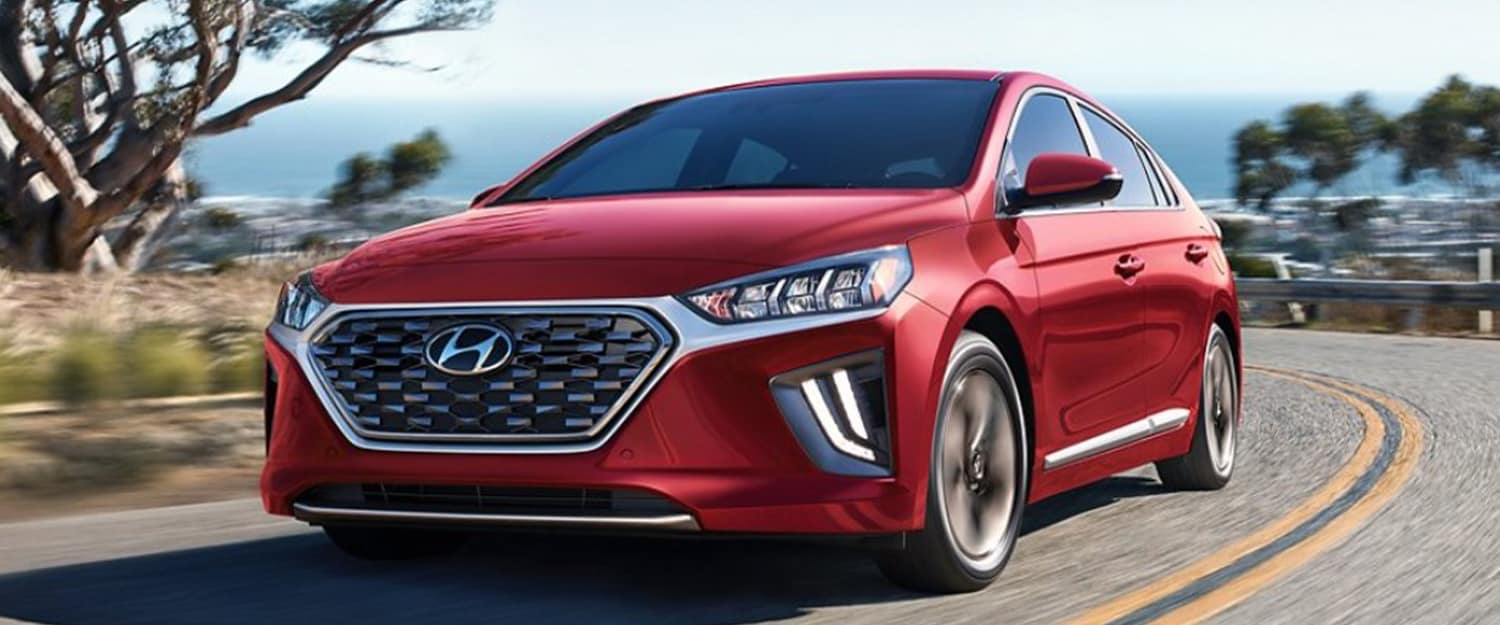 The new 2022 Hyundai Ioniq Hybrid - and its best-in-class 60 MPG fuel economy rating-is the hybrid you've been waiting for. Its engine has plenty of pep, and the car comes with a host of exciting technological features like regenerative braking and smartphone connectivity. Even the base model features intelligent, light-sensing headlights. What else can you expect from the 2022 Hyundai Ioniq Hybrid? Read on for a breakdown of its key features and trim levels.
Powertrain and Fuel Efficiency
The 2022 Hyundai Ioniq is a hybrid gas and electric hatchback. It's powered by a 1.6-liter four-cylinder Atkinson-cycle engine with a 32kW electric motor that makes 139 horsepower and 125 lb-ft of torque. To put that power to the pavement, the Ioniq makes use of a six-speed automatic transmission and is front-wheel drive.
The Ioniq is rated to get 58 miles-per-gallon in the city, 60 MPGs on the highway, and 59 MPGs in mixed driving. Thanks to its hybrid engine, this is one of the most fuel-efficient vehicles on the road.
No 2022 hybrid can match the Ioniq's fuel efficiency.
Trim Levels
This year's iteration of the Ioniq comes in four trim levels: Blue, SE, SEL, and Limited. Every trim level of the Ioniq is powered by the same engine, comes paired with the same transmission, and features a 10 year or 100,000-mile powertrain warranty.
The Blue is the base Ioniq trim, but it comes stocked with plenty of amazing features. This trim level features 15-inch alloy wheels, keyless entry, push-button start, automatic headlights, and cruise control. On its dash, you'll find an 8-inch infotainment touchscreen matched with a six-speaker sound system. Industry standards like Bluetooth and USB ports are available, as well as Apple CarPlay and Android Auto connectivity. The Blue trim also features a few driver assists, like forward collision warning and automatic braking, driver attention warning, and lane-keeping assistance.
Standout Features
Smart Headlights: Making use of various sensors and cameras, the Ioniq can turn its headlights on or off when light conditions change. It'll also automatically dim your high beams when it senses an oncoming vehicle.
Dual-zone Climate Control: You and your passengers will ride in comfort thanks to the Ioniq's standard dual-zone climate control. Simply set your desired temperature and the car's system will handle the rest. Both the left and right sides of the car can maintain different temperatures.
The SE trim adds several valuable features in addition to those found on the Blue. You'll find wheel-mounted paddle shifters, a leather-wrapped steering wheel, a 10-way power-adjustable driver's seat, heated front seats, and a 7-inch LCD gauge cluster.
As for safety features, the SE trim adds a blind-spot warning and a rear cross-traffic warning to those found on the Blue. The SE boasts heated mirrors, so you'll never have to worry about scraping ice and snow off them when the temperatures drop. The mirrors also include turn signal indicators.
It also features HD radio and satellite radio capabilities.
Standout Features
Blue Link: Easily connect your smartphone to your Ioniq with Hyundai's Blue Link technology. You'll be able to lock the doors, start the car, and find the car in a busy parking lot all with your phone.
Regenerative Braking: To help aid in your pursuit of improved fuel economy, the Ioniq makes use of regenerative braking technology. As you break, it converts some of the energy produced into electricity. This is an incredibly desirable feature for any hybrid and extends the range of your electric motor.
In addition to the SE's features, the SEL also includes LED headlights and taillights, a power sunroof, 17-inch alloy wheels, and wireless charging for your smartphone. It also boasts upgraded safety features. The SEL's collision warning can account for cyclists on the road and offers lane-keeping assistance.
Standout Features
Adaptive Cruise Control: This feature is perfect for those who plan on taking their Ioniq on long drives down the interstate. It's intelligent cruise control system monitors traffic and automatically maintains a safe distance between you and the car in front of you.
Wireless Device Charging: If you have a Qi-compatible smartphone, you'll be able to make use of the Ioniq's wireless charging capabilities. Simply place your device on the center console and charge your phone as you drive.
This is Ioniq's highest trim level. It comes with all the features available on the SEL, particularly the 17-inch wheels, wireless charging, and safety features, and adds a few notable upgrades. One key upgrade is the power-folding mirrors. They fold against the side of the car when it's parked. The mirrors also have puddle lights that shine a light on the ground just outside the doors.
First, the infotainment systems grow from 8 inches to 10.25 inches. This is useful because it'll be easier to work the touchscreen as you drive. Also included is a navigation system, so you'll value the extra screen size. The Limited also features more upgrades to its driver aid systems. In addition to collision warning, cyclist detection, and lane-keeping, you'll also get parking sensors on the front and rear of the vehicle.
Standout Features
Eight-speaker Audio System: The Limited boasts the most advanced and best-sounding audio available on an Ioniq. It's brought to you by Harmon Cardon, one of the leading names in speaker systems.
Hyundai Highway Driving Assist: The Driving Assist uses GPS to track your journey down the highway. It can help keep your car centered in your lane and automatically keep your car moving at highway speed. It's essentially a more intelligent cruise control.
Get the New 2022 Hyundai Ioniq Hybrid from Hamilton Hyundai
The 2022 Hyundai Ioniq is a hybrid designed for everyone. It has everything you'd expect from a modern, high-tech car, like the incredibly valuable Hyundai Highway Driving Assist, wireless device charging, and a full suite of safety electronic features. Every trim level of the Ioniq posts incredible fuel-efficiency ratings, is propelled by the same hybrid powertrain, and comes with Hyundai's incredible manufacturer's warranty.
If you're in the Chambersburg, Pennsylvania area and looking for a new hybrid, contact us at Hamilton Hyundai to schedule a test drive today. If you buy through us, you'll reap the benefits of their generous Hamilton Hyundai For Life program. If you're interested in more of Hyundai's top models, be sure to check out our research hub!